Book Description
From the popular Mountaineers Books series, Best Hikes With Dogs – this is the book that covers the City of Atlanta.
· 54 dog-suitable hikes accessible from Atlanta, Charlotte/Rock Hill, Columbia/coastal Carolina, Greenville/Spartanburg, and south Georgia
· A trail-finder chart helps you choose just the hike you're looking for
· Trails rated 1 to 4 paws to indicate difficulty for humans and their four-legged friends
· Tips on hiking with dogs, their special needs, and more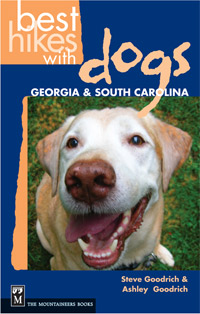 One cold November night in the Blood Mountain Wilderness in north Georgia, Steve Goodrich and his wife, Ashley, had to wrap themselves around their yellow lab, Rebel, under one sleeping bag. It was the last time they would fail to anticipate their dog's special needs on the trail. Since then, Rebel and the Goodriches have hiked thousands of miles together in Georgia and South Carolina to select the best dog-friendly, dog-fun, and dog-safe trails in the region.
Most hikes in Best Hikes With Dogs – Atlanta are on lightly traveled trails with few horses, bicycles, or motorized vehicles. Hikes avoid steep, rocky terrain and many offer lakes or streams as rewards. Potential dog hazards such as alligators or snakes are noted in the hike descriptions. Advice on hiking with dogs includes what to pack for your pooch-the Ten Canine Essentials and a doggy first-aid kit. A "Hike Summary" chart in the front of the book indicates trail length, water features, loop hikes, whether "best for fit dogs," and more.
You can find more information about hiking with your dog in Georgia on the author's website at www.n2backpacking.com.