Book Description
From the popular Mountaineers Books series, Best Hikes With Dogs – this is the book that covers the Bay Area of California.
Where to hike with Fido in Northern California: all trails recommended as dog-friendly and dog-fun!
*Terrain that's canine hazard-free and easy on the paws
*No leashes required on most trails and rarely a crowd to dodge
*75 trails accessible from Redding, Sacramento, the San Francisco Bay Area, and Monterey County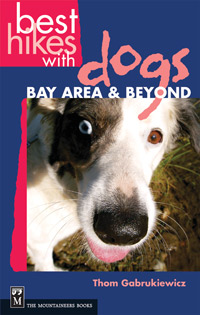 When Thom Gabrukiewicz's canine companion, Scully, cut her pads on rough terrain, he was forced to carry her out on top of his pack-eight miles with an extra 50 pounds on his back. Scully recovered, but Gabrukiewicz started looking at trails from a dog's point of view. They have since hiked more than 2,000 miles together, joined by sidekick Trinity.
The trails in Best Hikes With Dogs – San Jose do not require leashes (except in parks as noted). More than two-thirds of the hikes are on lesser known trails where travel is light and where you're unlikely to meet horses, bicycles, or motorized vehicles. They avoid steep, rocky terrain and offer lakes or streams as a reward. Additional features include what to pack for your pooch (The Ten Canine Essentials), and a Trail Finder chart that lists hikes by terrain, difficulty for dogs, leash regulations, and more.