Book Description
From the popular Mountaineers Books series, Best Hikes With Dogs – this is the book that covers the City of Austin.
· All trails within driving distance of Austin, San Antonio, Houston
· Terrain that's hazard-free and easy on the paws
· What to pack for your pooch-the Ten Canine Essentials and the Doggy First-Aid Kit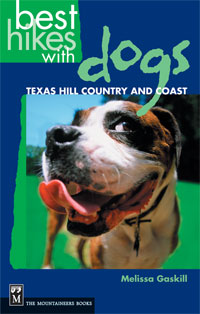 A native Texan, Melissa Gaskill has spent more than 20 years hiking and camping with her dogs all over the Lonestar State. In this new guidebook, she shares her favorite hikes in the Hill Country and Coast areas that are sure to delight both you and your pet. The hikes in Best Hikes With Dogs Austin range from short jaunts to longer, challenging trails. Discover everything from rugged hills with limestone cliffs and rolling terrain, to wide-open areas with brush and cactus, to the coastal plain with its grasslands and pine forests.
For each hike, leash regulations and availability of water are noted, along with any trail concerns pertinent for your dog. Advice is given on topics such as proper canine trail etiquette, wildlife encounters, and weather concerns. There's also a handy Trail Finder chart that lists hikes by length, terrain, difficulty for dogs, and more. Be sure to check out some of these pet friendly Austin motels while you are exploring the city.