Book Description
From the popular Mountaineers Books series, Best Hikes With Dogs – this is the book that covers the State of New York.
· 55 dog-suitable trails, all located within three hours' drive of midtown Manhattan
· Most trails are lightly used and offer shade and water
· What to pack for your pooch-the Ten Canine Essentials and a doggy first-aid kit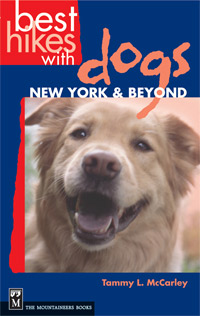 Tammy McCarley has hiked with her dog, Sienna (a Golden Retriever-Chow mix), for four years throughout the Empire State. Now they present the best trails for both you and your dog in New York City, the Hudson Valley, and Long Island. You'll find outings for every type of pet and pet owner, from easy day hikes to overnight trips. Discover rolling hills, rocky escarpments, clear lakes, beautiful beaches, and more.
All outings in Best Hikes With Dogs – New York are rated 1 to 4 paws to show difficulty for both humans and dogs. Trails are on terrain that's easy on the paws, and there are advance alerts for any canine concerns. A handy Trail Finder Chart helps you choose the outing that's best for you and your pet by comparing hikes by length, terrain, difficulty for dogs, and features such as backpacking options. Also included are loads of helpful tips: how to prepare your dog for a hike, what to bring, how to be responsible trail users, dealing with wildlife encounters, and hiking with your pet in the Northeast in all four seasons.