Product Description
From the popular Mountaineers Books series, Best Hikes With Dogs – this is the book that covers the State of North Carolina.
51 great trails for you and your pup in North Carolina.  Hikes located in and around Asheville, Winston-Salem, Piedmont, Uwharrie National Forest, and the Mountains-to-Sea Trail. North Carolina is a paradise for canine hikers and their owners: from the rolling meadows and countless streams, lakes, and waterfalls to the cool, lush forests filled with sights and scents. This guide has everything you need to know to plan a safe fun-filled outing with your dog. Also included: information detailing proper trail etiquette for dog owners and their pets, tips on hiking with dogs and their special needs, dealing with wildlife encounters, and more – all in Best Hikes With Dogs – North Carolina.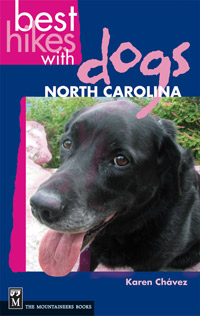 About the Author
Karen Chávez is the Specialties Editor for the Asheville (N.C.) Citizen-Times newspaper, overseeing coverage of outdoor recreation, outdoors sports, environment, and health and fitness issues, and is editor of the twice-yearly WNC Mountain Travel Guide.
A native of the Bronx, N.Y., she has a degree in environmental studies from the State University of New York at Binghamton, and a master's degree in journalism from the University of Montana.
She has also worked as a reporter covering outdoor and environmental issues in Montana, Idaho and Arizona. She is a former National Park Service ranger and has worked in Yellowstone National Park, Glen Canyon National Recreation Area in Arizona and the Upper Delaware Scenic and Recreational River in Pennsylvania.
Whenever she can get out of the office, she loves to hike in the mountains around her home in Asheville, N.C., with her favorite hiking partner – her black Lab, Shelby