Book Description
From the popular Mountaineers Books series, Best Hikes With Dogs – this is the book that covers the State of Oregon.
* 75 hikes throughout the state-many accessible from urban areas
* What to pack for your pooch (the Ten Canine Essentials) and what to include in a doggy first-aid kit
* Tips for hiking with minimum dog-impact on the environment and on other hikers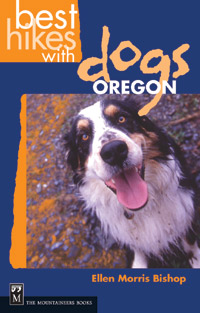 Ellen Bishop and her dogs, Meesha and Dundee, have hiked more than 750 miles together in Oregon– now they present the best, most dog-friendly trails found throughout the state. These trails do not require leashes (except in parks as designated), and host few hikers and even fewer children. They are free of cliffs, paw-damaging terrain, poison oak, nearby roads, off road vehicle traffic, and other hazards of particular danger for dogs. All of them offer shade and lakes or streams for Fido to play in or enjoy a drink.
Many hikes in Best Hikes With Dogs – Portland are easily accessible from urban areas including Portland, Eugene-Springfield, Roseburg, and the Medford-Grants Pass area. There are also hikes along the Oregon Coast and in northeast Oregon, in areas including the Wallowa Mountains.
Ellen Bishop is the author of several books on geology and the outdoors, including Hiking Oregon's Geology. Meesha, a female Rottweiler/Border Collie mix, is certified as an Animal Assisted Therapy dog. Dundee, a male Australian Shepherd, stars on the front cover of the book. Both dogs were adopted from the Humane Society. Be sure to check out these Oregon pet friendly motels that can accommodate both you and your canine while you are exploring the state.