Book Description
From the popular Mountaineers Books series, Best Hikes With Dogs – this is the book that covers the State of New Jersey.
· Trails rated 1 to 4 paws to indicate difficulty level for dog owners and their four-legged friends
· Canine hazard-free terrain that's easy on the paws
· Trail finder chart lists hikes by terrain, difficulty for dogs, leash regulations, and more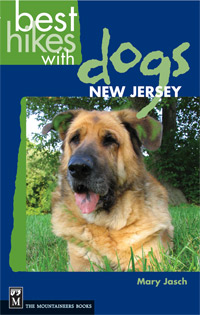 New Jersey boasts an amazing array of hiking opportunities-for both you and your pet-with trips to mountain ridges, valleys, highlands, lakes, coastal plains, beaches, and more. In this new guidebook, Mary Jasch shares her favorite trails, from easy day hikes to overnight backpacking trips, presented through canine-centric eyes. These hikes were chosen for dog-appeal: they avoid contact with livestock, offer shade and water en route, and include lakes and streams as rewards.
Advice in Best Hikes With Dogs – New Jersey is given on proper trail etiquette for dog owners and their pets, how to be responsible trail users, and what to pack for your pooch-the Ten Canine Essentials and a doggy first-aid kit. You'll also find helpful tips on wildlife encounters, weather concerns, and low-impact camping.
You can find more information about hiking with your dog in New Jersey on the author's website at www.njdoghikes.com, and be sure to check out these New Jersey dog motels while you are exploring the state.