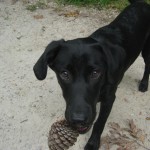 If you have a leash, a harness and a water bottle,you have the equipment. If your dog has a nose and two ears, you have a trail guide. And if you have a sense of adventure, your dog will provide more than enough enthusiasm for your entire pack.
So go for it! You'll be surprised just how easily you and your hiking partner become avid trail hounds.
Hi-Tech Gear For Hiking Hounds?
These days, you almost need a map to navigate your way through the mountains of clever products designed for hiking dogs. Rest assured that, with a few exceptions, your dog will have just as much fun without a full complement of gear (see Pooch Packing List, below).
If you do choose to equip your dog with special gear for the trail, it's imperative that you let your pet try it first at home, and then around the neighborhood.
Dog booties, a back pack, a fetching rain slicker–anything your dog wasn't born with is equipment that needs to be broken in–patiently–at home for your dog to have a safe and enjoyable "high-tech" trail experience.
Pooch Packing List
· 6′ Leash
· dog harness
· webbed or leather collar
· ID tags; local contact info
· seat restraint or crate
· favorite blanket and a toy
· the usual chow, treats
· drinking water
· food & water bowls
· poop bags
· vaccination records
· emergency numbers
· First Aid Kit
· emergency whistle
· old towels
Look Before You Leash
Your dog is sure to enjoy every exhilarating minute on the trail with you. That doesn't mean, however, that your dog is allowed to enjoy every trail.
Some trails simply don't allow dogs. Always check the rules and regulations of a particular wilderness area before you hit the trail head.
Private property, protected habitat, public parks–pretty much anywhere you'll find an inviting, well maintained trail–you'll find specific rules regarding its use.
Fortunately, most public trails welcome dogs on leash (no longer than six feet, please), provided that the owners properly pick up and dispose of their dog's poop.
Pack It In, Pack It Out
However you choose to equip your pack for the hike, remember that you are responsible for leaving the trail as nature intended it–with no trace of your expedition left behind.
Everything you and your pal bring to the party–not just the banana peels and soda cans and candy wrappers–but anything that you, yourself would not want to see or smell or step in, should be bagged, carried out and disposed of properly.
And we do mean poop!
from The Trail Hound's Handbook, A Best Friend's Guide To Hiking With Dogs by Ellen Eastwood.
2012, Wilderness Press.
For more on hiking with dogs, go to http://www.KidsHikeDogsHike.com.
Article Source: http://EzineArticles.com/?expert=Ellen_Eastwood
http://EzineArticles.com/?Hiking-With-The-Family-Dog&id=6553798